the New York manufacturer of fine dance apparel for women and girls. Click here to see a sample of our products and a list of web sites for purchasing.
With Body Wrappers it's always performance at its best.


Go back to Flash Reviews
Go Home

Flash Review 2, 11-21: Beautiful Dreamers
Ooh-La-La and Oh-La-La at the Opera from Kylian and Lock

By Paul Ben-Itzak
Copyright 2002 The Dance Insider

PARIS -- Dreams take place in compressed space. They often find one trying to speak but unable to do so. And they capture one's most dear images of beauty, the objects themselves often elusive. Jiri Kylian's 1995 "Bella Figura," seen last Saturday afternoon on the Paris Opera Ballet at the Garnier and continuing through this Saturday, isn't just a dream of a dance, populated by some of the most sensuous figures ever to grace a stage, but a dance that speaks like a dream and unfolds on a stage constructed like one.

I'll admit: I couldn't wait for the appearance of the dancers dressed only from the waist down, in bustling red gowns, promised by the posters. And when Muriel Zusperreguy turned up, just slightly beyond our grasp, what was naked about her, particularly a slim, small, tight white back and delicate breasts and belly softly lit by Kylian, left me breathless, to give you the PG-rated response. There was simple lovely expression in her skin. But the expressive turned to the poignant when the ballerina, with near heartbreak inchoateness, waved her arms slowly, curled at the elbows, and then repeatedly issued her palm from an open mouth, as if trying in vain to speak.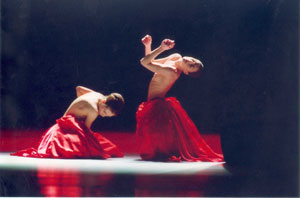 The Paris Opera Ballet in Jiri Kylian's "Bella Figura." Photo by Icare courtesy Paris Opera Ballet.
Throughout the duets and trios that followed, Zusperreguy floated in and out, sometimes at the edges of the stage, that elusive dreamed beloved.
During all these segments, a curtain above and two at the sides often closed in on the dancers -- this is what I mean about the space being compressed, as in a dream. (I don't know about you, but my dreams often take place in a murky space in which I can't see much beyond the players; such was the effect here.)
Dreams also feature experiments in texture, and pace, and even humor, and that happened when curtains top and sides compressed to form a small box encasing Zusperreguy and another nymph, Laetitia Pujol. Each seated on her knees on a bunched up crimson skirt, moving as in water, they poked and probed various points on each other's bodies softly, watching the other's amoeba-like reactions. Or maybe a better word here is sea eneminie, even if I can't spell it: you know, like when you touch it in its center and all the tentacles contract.
Dreams can feature arch figures, too, and Celine Talon, a house favorite here, supplied that, in rapid reactions to partner Jeremie Belingard, to whom fell the signature Kylian pratfall of the evening. Eleonora Abbagnato was fine and confident, but didn't quite capture the dream-like essence as totally as Zusperreguy, and I don't think any of the men, besides the droll Belingard, did either. Which is not to say they fell short but, like a dream, this dance seared one image most profoundly into my sense and emotional memory: Muriel Zusperreguy, a dream if ever there was one. (With not a little credit to Kylian for mining the ballerina's sensual eloquence.)
....Zusperreguy and Kylian provided the ooh-la-la of this mixed program. I don't think I have to translate that term. But the French also have its opposite, "Oh-la-la," which might translate as "catastrophe" or "merde to the nth power." Edouard Lock normally directs the Canadian troupe La La La Human Steps, but unfortunately was let out long enough to wreak havoc on the bodies of the Paris Opera Ballet, after seeing which charade, I've petitioned Ottawa to rename his troupe "Oh-la-la Super-human Steps." In "AndreaAuria," premiering on the Opera with this run, Lock falls into the trap that trips up many a modern choreographer given the opportunity to work with ballet dancers. He becomes fascinated with all they can do technically, forgetting that we in the ballet audience already know this and are not impressed unless these marvels are used in the creation of high art. That didn't happen here. Instead, we get lots of high extensions, whipping legs, and quivering pointe-work, with the only modern element being the suit-clad guys brushing their uncombed hair out of their eyes a lot. (The goofy if compelling Yann Bridard was in his element.) Even more unfortunately, indeed a crime, was that Lock dressed the statuesque Marie-Agnes Gillot from head to toe in a men's suit for one segment too. These are muscles that are meant to be seen.
Making matters worse was the original score by David Lang, a minimalist with minimal gifts. Notwithstanding its sound playing by Denis Chouillet and Frederic Lagnau, Lang's tinkly music for two pianos looked even smaller compared to the power-house tracks Kylian employed, including excerpts from Giovanni Battista Pergolesi's "Stabat Mater," Lukas Foss's "Salomon Rossi Suite," and Antonio Vivaldi's "Concerto for two Mandolins."
"Bella Figura" and the "AndreaAuria" repeat again tonight and Saturday afternoon and evening at the Garnier, with Zusperreguy in each performance. For more information, please visit the Paris Opera web site. (Helpful hint: to find out casting, available a week or so before a program's opening, click on the name of the ballet program you want, and then click on "distribution.")