the New York manufacturer of fine dance apparel for women and girls. Click here to see a sample of our products and a list of web sites for purchasing.
With Body Wrappers it's always performance at its best.


Go back to Flash Reviews
Go Home

Flash Review 1, 4-10: Casting for Stars
From Australian Ballet, Uneven Dancing in a Cranko Masterpiece

By Suzanne Davidson
Copyright 2003 Suzanne Davidson

SYDNEY -- Had it been opening a season at Covent Garden or the Palais Garnier, the Australian Ballet would surely have presented a "Romeo & Juliet" with leading players in all the principal roles of the John Cranko ballet. So what does it say about the company's attitude to its Sydney market (its largest and most enthusiastic at home) that opening night at the Sydney Opera House featured a cast uneven at best, while most of the premium performers were reserved for the second night? The decision didn't serve the dancers well, and it didn't serve the audience well. What was it the King of Siam was fond of saying? "It's a puzzlement."

Having got that off my chest, the surprise of the evening was Steven Heathcote's interpretation of the role of Tybalt. Heathcote's accepted stage persona has mostly been that of the handsome hero. At last Saturday's Sydney premiere of "Romeo & Juliet," he became the archetypal, convincing villain. His interpretation of the frequently one-dimensional Tybalt put the final seal on his ascendancy, not only in the Australian Ballet, but in the world of classical ballet, into the list as one of "the greats." From his first entrance, Heathcote's Tybalt is filled with unforgiving fury and ugly malevolence, yet without ever degenerating into melodrama -- a trap that many a younger and lesser dancer has fallen into when faced with the challenge of this role.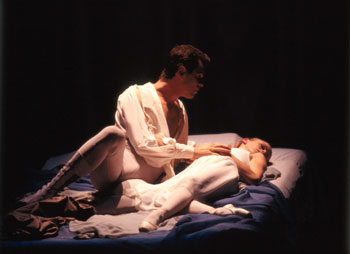 Simone Goldsmith and Steven Heathcote in the Australian Ballet's production of John Cranko's "Romeo & Juliet." Jeff Busby photo courtesy Australian Ballet.
But let's start at the beginning. Playing the Overture under the baton of the company's new music director and chief conductor, Nicolette Fraillon, the Australian Opera and Ballet Orchestra sounded suspiciously like a symphony orchestra, which was exciting. Unfortunately this quality didn't continue all the way through the performance, with some surprising sounds emanating from the wind section at times. Nevertheless, Fraillon is more at one with the dancers than most conductors of the Australian Ballet have been of late, and this is a great plus, giving confidence to those watching, and, no doubt, relief to those performing.
Guest conductor Andrew Mogrelia lead the orchestra for the second performance. Under his baton it sounded better on the whole, which could have been a result of having benefited from another 'go.' Unfortunately. the wind section still struggled at a couple of dramatic moments.
Cranko first staged this production of his "Romeo & Juliet" in Stuttgart in 1962, the same year the Australian Ballet was formed. The late Anne Woolliams, Cranko's ballet mistress at the time of its creation, introduced the work into the Australian repertoire when she was the company's artistic director. Woolliams was recognised as one of the world's greatest ballet producers, especially of Cranko's works. In her production of this work, each person on the stage was a real, living, breathing Veronese. This is very different to a well-trained classical ballet ensemble of talented young dancers, which is what we have in the current version of the production, with the result that the ensemble scenes in general are in danger of looking dated.
The challenge of maintaining the highest possible standard of classical technique, and then disguising it in the service of the drama of a performance, is one that separates a run-of-the-mill performance from an artistic experience. But then that is what the art of classical ballet is meant to be about. Simone Goldsmith, the Juliet on the second night, achieves this ideal to perfection. Her technical command is total and she makes it serve her art. The result, from the point of view of the audience, is a highly satisfying artistic experience. And this is only her first season of playing Juliet! One looks forward to watching her characterization develop even further.
Over some 50 years of watching ballets and performing in them, I have seen countless Juliets, many of them very moving. The partnership of Heathcote and Goldsmith as Romeo and Juliet worked for me on the same level as Ulanova and Fadeyechev's had in 1956. That was almost fifty years ago, yet many of its details are as clear in my mind as if I had watched it yesterday.
In fact, a genuine partnership between the two leads is probably more important to the success of this ballet than to most. (Editor's note: For more on this point, see Aimee Ts'ao's Flash Review of the Stuttgart Ballet's recent performances of the same work.) On opening night Lucinda Dunn's Juliet was a beautiful study of a young girl falling in love unexpectedly and overwhelmingly. Being an intelligent dancer, Dunn is bound to grow in the role, especially if she is fortunate enough to happen on the ideal partner. To me, Robert Curran, who was Dunn's Romeo, was far more convincing as Tybalt in the Heathcote/Goldsmith cast.
Playing an interesting 'good guy' is far more difficult than holding an audience's attention as the villain.
Romeo can come across as a nice boy bewildered by what's going on about him. But Romeo is in fact a bit of a lad, who goes about town with his mates, Mercutio and Benvolio, indulging in light-hearted flirtatious adventures (see the business with Rosaline and her fan). When he sets eyes on Juliet, however, Romeo suddenly becomes a man absolutely and unreservedly in love. Few Romeos are able to convey this with sufficient realism to move us; yet without this sudden transformation, the dramatic premise upon which the whole structure is built falls down.
In the supporting role of Mercutio we saw Mathew Lawrence on the first night and Campbell McKenzie on the second. Lawrence smiles a great deal but lacks the impish humour inherent in this character. McKenzie is more interesting as a character, with a nicely judged death scene, but his technique has become blurred and careless. In fact, surprisingly, both Lawrence and McKenzie's performances lack clarity and physical power. Matthew Donnelly's Benvolio in both performances was charming, with a wholesome persona and a clean technique, dancing true to the choreography. He also starts and finishes his double tours in a demi-plie, facing front, a refreshing change these days.
Martyn Fleming's Lord Capulet was disappointing in that Fleming failed to project the absolute power of the Head of the Capulets. Lynette Wills's Lady Capulet was a good study of mother love in Shakespeare's aristocratic Italy. She displayed regal elegance and hauteur, with the right amount of indecision when required to "throw her daughter to the wolves" (in the shape of the hapless Paris) but her reaction to Juliet's death was unexpectedly flat.
The role of Paris is generally a pretty thankless one, but on opening night Tristan Message managed to give him an interesting edge.
The Australian Ballet has traditionally been known for the excitement and dramatic reality of its performances. That quality has not changed in the individual dancers. However, it needs to be harnessed.
Despite having a production supervisor from Stuttgart, Anne Woolliams's touch is missed. Artistic director David McAllister has an as yet unsolved problem of finding someone, perhaps within his own ballet staff, who can bring out a genuinely dramatic performance from his company as a whole.
It's a mark of Cranko's genius that, despite the odd individual weakness of characterIzation, the work as a whole can still move an audience.