the New York manufacturer of fine dance apparel for women and girls. Click here to see a sample of our products and a list of web sites for purchasing.
With Body Wrappers it's always performance at its best.


Go back to Flash Reviews
Go Home

Flash Flashback, 6-11: Secret Origins of The Dance Insider
Five Years of Telling Stories not Told Elsewhere

Editor's note: Five years ago today, a group of dance professionals and journalists published the first issue of The Dance Insider, with a mission to tell stories not told elsewhere, give a voice to dancers, and build the dance audience. We asked founding editor and current senior artistic advisor Veronica Dittman for some reflections. -- Paul Ben-Itzak

By Veronica Dittman
Copyright 2003 Veronica Dittman

The Dance Insider in its original incarnation was a black and white 8" x 11" book that came out when we could manage it, pretty much quarterly. It was a good-looking magazine, full of elegant photos, often by Jamie Phillips. The content included feature stories, opinion pieces, and essays by Paul and others, my topic-focused round-table Forum column, and some performance picks and reviews.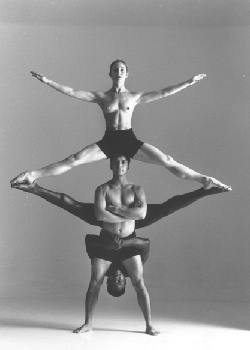 Top to bottom: Rebecca Anderson, Mark Santillano, and Gaspard Louis of Pilobolus, as photographed by Jamie Phillips for the cover of the premiere issue of The Dance Insider, published June 11, 1998.
There was a lot I loved about the DI as it was then. It was basically a polished zine, and its grassroots, DIY sensibility was right up my alley. I loved that it was distributed by hand and through the US mail. I was also very cozy with the nature of the subject matter we printed; I like sinking my teeth into longer "think" pieces. I think Paul and others wrote some terrific stuff, and I was pretty pleased with a couple of the things I eked out.
The switch to the DI's current format -- primarily daily Flash Reviews on the Internet -- was not one I could get very excited about. I still find the Internet tedious, but at the time I felt its threat acutely and was downright hostile. (In the first half of the 20th century, our culture allowed the automobile to completely take over without even questioning what the effects might be, and we still are reeling from its effects on our landscape, environment, and social fabric. In the same way, our barely considered embrace of the Internet has the potential, I think, to decimate what remains of our connection to and experience of the physical world.) This attitude, combined with my earlier realization that I couldn't work on the DI as extensively as I had been and still dance and earn a living, prompted me to take a backseat in its operations.
From my thus-removed point of view, I'm really proud of what the DI has become. (Can I be proud if I had little to do with it?) Robin's elegant web site has provided a venue for what is a widely recognized and vital dance resource. The fact is that if my preferences had prevailed, I'm not sure the DI could have survived this long. Publishing each issue was a tremendous effort for Paul and I suspect he would have burnt out in five years if he'd tried to keep that up. Of course we'd hoped to move to the next level of publishing, but I'm not sure we had access to the business acumen and luck we needed for that. More importantly, the Dance Insider Online fulfills the magazine's mission more fully than the print edition ever could. The real story not being told is that dance is happening every day, in myriad venues and at various scales, and there is almost no acknowledgement of this in the media. I love how the DI has recognized, reviewed, and followed so much small-scale dance that otherwise would have completely slipped under the radar. And finally, how much more gratifying it is to tell the story to 40,000 readers every month, a number that was out of reach for the magazine.
Happy Birthday!

Veronica Dittman is a dancer who lives in Brooklyn, where she teaches ballet and has produced The Industrial Valley Celebrity Hour with Faith Pilger. She was a founding editor of The Dance Insider, and takes great pleasure in watching it grow and contributing to it now and then.

Editor's post-script: In addition to Veronica Dittman, Paul Ben-Itzak, and current webmistress and art director Robin Hoffman, the founding staff of The Dance Insider included Ben Zackheim, Rebecca Stenn, Valerie Gladstone, Aimee Ts'ao, Edward Ellison, Ora Brafman, Kam Cheng, Jodi Kaplan, Rita Felciano, Elizabeth Roxas, Dancer Z, and Sara Hook. Special thanks for making the first issue happen went out to Jamie Phillips, the Eddy Foundation, Ed Winer, Linda Ramey, Kim Clark, Tunnel Stationers, K.Y. Chow, and Audrey Ross. The opening bash was hosted by Valerie Norman. The official launch was hosted by the American Dance Festival in Durham, North Carolina. The cover featured Rebecca Anderson, Gaspard Louis, and Mark Santillano of Pilobolus, in an exclusive Dance Insider photograph by Jamie Phillips.