the New York manufacturer of fine dance apparel for women and girls. Click here to see a sample of our products and a list of web sites for purchasing.
With Body Wrappers it's always performance at its best.


Go back to Flash Reviews
Go Home

In Memorium, 1-6: The Teacher, the Dancer
Farewell to Svetlana Afanasieva & Alan Eto

By Aimee Ts'ao & Fiona Marcotty
Copyright 2004 Aimee Ts'ao & Fiona Marcotty

SAN FRANCISCO -- Svetlana Afanasieva, one of the Bay Area's most prominent ballet teachers, died on December 30, 2003 at the age of 63, of an apparent heart attack while on vacation with her family in the Lake Tahoe area.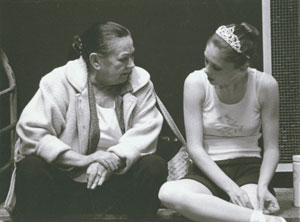 Svetlana Afanasieva coaches a City Ballet School student in "The Nutcracker." Photo courtesy Aimee Ts'ao.


Born in Moscow on August 12, 1940, Ms. Afanasieva survived the hardships of World War II to go on to study at the famed Bolshoi Academy of Ballet. After graduating, she joined the renowned Moiseyev Dance Company. She performed with that troupe for five years, touring internationally. She also met Mikhail Alexandrov, another dancer in the company, whom she married, and together they had a daughter, Galina Alexandrova.

Missing classical ballet, she left the Moiseyev and joined the Stanislavsky Ballet as a principal dancer. For fifteen years Ms. Afanasieva danced the important leading classical roles. When she retired from the stage, she was accepted into the teacher training program at her alma mater, the Bolshoi Academy of Ballet. She joined the teaching staff of that prestigious institution on completion of the five-year course. She also was a guest teacher for many companies in Europe, particularly in the Eastern Bloc.

Galina, her daughter, after graduating from the Bolshoi Academy of Ballet danced with the Bolshoi Ballet for seven years. While on tour in San Francisco Galina met her future husband, Kenneth Patsel, who was working at the War Memorial Opera House. After emigrating here and getting married, she joined the San Francisco Ballet. Eventually, her parents, Ms. Afanasieva and Mr. Alexandrov, moved to be closer to her.

Soon Ms. Afanasieva was teaching again. First giving company class for Smuin Ballets and working with young students at the Marin Ballet School, under director Mikko Nissinen (now director of Boston Ballet). She began teaching her own independent class in the mornings and taught for the San Francisco Dance Center and gave company classes to Alonzo King's Lines Ballet.

Many principal dancers and soloists from San Francisco Ballet came to Ms. Afanasieva's class, as well as modern dancers from Robert Moses' Kin, Kunst-Stoff and ODC/SF. Her immense body of technical expertise and the depth of her artistic understanding drew loyal students and she was greatly loved. Though she spoke limited English, without words she immediately communicated her love for dance, her joy in teaching, her creativity in composing combinations, and her deep understanding that the design of the class itself could teach you many technical details without verbal explanations. She possessed a diamond sharp intelligence, glittering in its many facets, and an inner strength that keep her going in spite of her emotional vulnerability in the face of a difficult personal life.

Last summer, Galina took over City Ballet School from Damara Bennett, who moved to Portland to assume the position of school director of the Oregon Ballet Theatre, under Christopher Stowell's artistic leadership. Ms. Afanasieva began giving classes to aspiring young dancers and helped with City Ballet School's production of "The Nutcracker." At the end of October, she also moved her morning class from the San Francisco Dance Center to the City Ballet School's new studios.

Svetlana's passing leaves a deep chasm in the landscape of the Bay Area dance community. She taught one of the few Vaganova style classes that was accessible to everyone, not limited to those enrolled in professional training programs.

A Russian Orthodox service was held Monday morning at the chapel of the Serbian Cemetery in Colma, where Svetlana was buried with her mother, Pelageia Afanasieva, and her husband, Mikhail Alexandrov, who both died in early 2002. She is survived by her daughter Galina Alexandrova, son-in-law Kenneth Patsel, and three grandchildren, Sasha, Katia and Natassia Patsel.

Donations in Svetlana Afanasieva's honor can be made to City Youth Ballet, c/o City Ballet School, 32 Otis Street, San Francisco, CA 94103.

--Aimee Ts'ao


NEW YORK -- Alan Eto was one of those New York dancers who was in it for keeps, no matter how crushing the disappointments or how few the acknowledgements. A true paladin, he danced because he believed in art's power to ask questions, to tear down facades, to make us all think, feel, connect, and love harder than we ever could without it. From his days as a Juilliard student, to his years performing with Repertory Dance Theater, Zvi Gotheiner, Sally Silvers, Stanley Love Performance Group, Debbie Stamos, in Kate Valentine's Les Boys, and with Fiona Marcotty/beat upon beat, Alan inhabited the dance landscape with a consummate articulated grace, tempered by a heart of wildness, and a fierce sense of morality. His performance in "Proud Mary," a solo created for him by Stanley Love, was unforgettable for many viewers in its audacity, sexuality, and empathy.

Alan entered Beth Israel Hospital on November 24, and spent five weeks in critical condition battling multiple organ failure and AIDS-related complications. He was slated to perform in my concert in the first week of December. The memory of the amazing spiritual quality he always had of seeing far into the distance, focusing on the eternal as he danced, will stay with me forever.

Alan Eto died on New Year's Eve at the age of 38. He is survived by his father, David Eto, and his brother, Gordon Tad Eto. His legacy includes the memory of his devotion to his spiritual master, Sri Gary Olsen, and his overwhelming generosity to his many, many friends. There will be a memorial event on Saturday, January 24 at Location One Gallery. For more information, email beatafterbeat@cs.com.

-- Fiona Marcotty