The Buzz, 3-19: Freddy's not Dead
When Ashton Starred in Ashton; "Re-interpreting" a 'Tragedy'
By Paul Ben-Itzak
Copyright 2004 The Dance Insider
Photography by Yvonde and by Anthony Crickmay
PARIS -- Years ago, when I was just a dance greenhorn, David Bintley, whose Birmingham Royal Ballet will help the Lincoln Center Festival celebrate Frederick Ashton's legacy in July, explained to me that he was more comfortable working in the British ballet milieu than the American because it was more narratively inclined. Since then I've learned that US ballet companies certainly don't shy away from story ballets. But their ability to carry off what little remains of ballet pantomime is usually anemic. New York is certainly in need of a reminder of pantomime's possibilities, and Ashton's "Cinderella," at least, has the potential to deliver one when the Royal Ballet brings Wendy Ellis Somes's staging (Somes's late husband, Michael Somes, created the role of the Prince, and she owns the ballet) to the Metropolitan Opera House this summer.
At "Cinderella"'s 1948 Sadler's Wells premiere, "the big hit," wrote Edwin Denby in Ballet magazine, was "its pair of Ugly Sisters, (Robert) Helpmann and Ashton himself, and it is the one Ashton plays, the Second Ugly Sister, who becomes the charmer of the evening. She is the shyest, the happiest, most innocent of monsters. She adores the importance of scolding, the fluster of getting dressed up -- in a rush of milliners, hairdressers, jewellers, violinists. To do a little dance transports her, though she keeps forgetting what comes next. At the Prince's she is terrified to be making an entrance; a few moments later, poor monster, in the intoxication of being at a party she loses her heart and imagines she can dance fascinatingly -- in the way Chaplin at a fashionable tango-tea used to imagine he could slink like a glamorous Argentine. But after the slipper test she accepts the truth as it is, she makes a shy state curtsy to the princely couple, to the power of Romance and Beauty, and paddles sadly off. No wonder such a monster wins everybody's heart. Ashton does it reticently, with the perfect timing, the apparently tentative gesture, the absorption and the sweetness of nature of a great clown. He acts as if he never meant to be the star of the show and very likely he didn't. He cast Helpmann, England's greatest mime, as the First Stepsister and gave that part the initiative in their scenes; he himself was only to trail along vaguely, with one little solo in the second act. After all, he was busy at the time choreographing the three acts of the piece, his and England's first full-length classic ballet, and doing it in six weeks. Ashton's unexpected triumph onstage is the sort of accident that happens to geniuses."
In addition to "Cinderella," the Royal also brings the 1948 "Scenes de Ballet," set to Stravinsky, and the 1963 "Marguerite and Armand," to Liszt, to the Lincoln Center Festival's Ashton Celebration. The Joffrey Ballet of Chicago, making its New York debut, will perform "Monotones 1" and "Monotones II," to Satie, and two works from 1937: "Les Patineurs," a romantic evocation of ice skating set to Meyerbeer, and "A Wedding Bouquet," to music by Lord Beners and text by Gertrude Stein. Birmingham Royal offers "Dante Sonata," also to Liszt, created in 1940, "Five Brahms Waltzes in the Manner of Isadora Duncan," from 1977, "Enigma Variations" (1968, to Edward Elgar) and "Two Pigeons," a 1961 work to music by Andre Messager based on a fable by La Fontaine. K-Ballet Company of Tokyo, headed by former Royal Ballet star Tetsuya Kumakawa, will perform the 1980 "Rhapsody," with Kumakawa heading the cast in a role created on Mikhail Baryshnikov.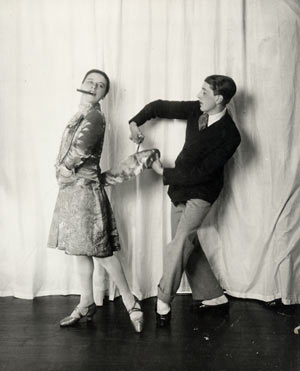 Marie Rambert and Frederick Ashton of Ballet Rambert in Ashton's "A Tragedy of Fashion." Yvonde photo courtesy Rambert Dance Company.
The season's award for the earliest (if not necessarily the most authentic) Ashton chestnut has to go to the Rambert Dance Company, which will be revisiting the evening in 1926 that launched this seminal troupe -- then the Ballet Rambert -- and the career of Frederick Ashton. The featured ballet was "A Tragedy of Fashion." As insufficient records of this ballet exist for a proper reconstruction, or so explains a spokesperson for Rambert, the company has asked Ian Spink to make "a modern re-interpretation" of "A Tragedy of Fashion," which will premiere May 25 at Sadler's Wells. "We have created a new scenario with references to the original (written by Ashley Dukes) and also to the creative influences and lifestyle of Ashton in the early decades of the 20th century," says Spink. "His ballets during this period were very much influenced by the work of Europeans, in particular the Ballets Russes and the choreographers, composers and artists who created often ravishing and sometimes shocking dance works for the European stage. Ashton inhabited a world not too dissimilar to that of Noel Coward; the ups and downs of his private life fed the characters portrayed in his choreography, and his close associations with his fellow dancers led to some lasting and creatively fruitful partnerships. Overall, our new 'Tragedy' is about fashion, art and suicide."
Said Ashton of Rambert founder Marie Rambert (that's them in the archival photo accompanying this column), "Marie Rambert was, in every respect of her nature, a truly remarkable woman. She launched me on my career and I basked in the radiance of her brilliant personality, her wit, her erudition and her unerring taste. I owe her a debt of gratitude that can never be repaid."
Rambert Dance Company's Melanie Teall in Frederick Ashton's "Five Brahms Waltzes in the Manner of Isadora Duncan." Anthony Crickmay photo courtesy Rambert Dance Company.
The Rambert program will also include "Five Brahms Waltzes in the Manner of Isadora Duncan." The Lincoln Center Festival's Ashton Celebration takes place July 6 - 17, and is sponsored by Verizon and former American Ballet Theatre sponsor Movado.
Notes: Of the four notated Ashton works or excerpts in the library of the Dance Notation Bureau, the earliest is "Facade, Polka," from 1931, notated by Irene Nute. The others are the 1947 "Facade," notated by Cecil Bates, the 1950 "Illuminations," notated by Gretchen Schumacher, and the pas de trois from "Les Patineurs," notated by Ann Hutchinson Guest. The Denby citation was taken from the collection "Dance Writings," edited by Robert Cornfield and William Mackay and copyright 1986, Yvonne and Rudolph Burckhardt. (New York, Knopf)