The Buzz, 9-12: Legacies
Remembering Nik; Losing Ailey; Saving Dunham; Hines's Sight
By Paul Ben-Itzak
Copyright 2003 The Dance Insider
#6627
PARIS -- Delacroix is there. So are Bernhardt, Collette, Corot, Pissarro, Bizet, Balzac, Proust, Baudelaire, Apollinaire, Laurencin, Montand, Wilde and, of course, Jim Morrison. Alwin Nikolais, who passed away in 1993, is there too. But unlike these luminaries and unlike Isadora Duncan, with whom he shares a balcony in the sprawling crematorium, Nik, as his dancers and other colleagues of the multi-media dance pioneer call him, is not on the maps of famous residents posted around Pere Lachaise, the ancient Paris cemetery where NIk's ashes reside.
Nikolais Dance Theatre itself died an unheralded death in December 1999, when the dance-theater pioneer's longtime and also legendary partner, Murray Louis, effectively folded its last incarnation, the Murray Louis and Nikolais Dance Company. Now, if you believe the strong indications on the Joyce Theater web site, the Nikolais Dance Theatre has been resurrected.
Take a look at the Fall calendar on the Joyce site. Every other performer is indicated by the name of the company. For instance, the company performing repertory by William Forsythe, Christopher Wheeldon, and Russell Maliphant is not called the Forsythe-Wheeldon-Maliphant Dance Company, but by its proper name, George Piper Dances. But Ririe-Woodbury Dance Company, the ensemble performing October 28 to November 2, is identified as the Nikolais Dance Theatre -- one of the actual names of Nik's company before it merged with Louis's.
Click on "Nikolais Dance Theater" on that page, and you're taken to a page on which the heading is "Nikolais Dance Theatre." You don't find out until reading the text beneath that what you'll actually be getting if you fork over $40 for a ticket ($46.50 if you buy it on the web through Telecharge) is a "unique collaboration between the Nikolais/Louis Foundation and the Ririe-Woodbury Dance Company." Here's how a press release from R-W, which is directed by two dancers who trained with Nik, put it earlier this year: "Murray Louis of Nikolais/Louis Foundation for Dance selected Ririe-Woodbury Dance Company as the performing company for Alwin Nikolais: A Celebration Tour, ten years after Nikolais's death." The tour is being funded, according to R-W, with the support of American Express, the state of Utah, the Emma Eccles Jones Foundation, the George S. and Dolores Dore Eccles Foundation, the Harkness Foundation, the Mellon Foundation, the National Endowment for the Arts, and "the Altria Group Inc.," a.k.a. Philip Morris, the cigarette manufacturer. (By the way, according to a study released today, smoking killed nearly five million people in 2000.)
This is all fine and accurate. But it's a leap to bill the company as Nikolais Dance Theatre, which is the strong implication on the Joyce web site. (Even the photograph on the page for "Nikolais Dance Theatre" is not of Ririe-Woodbury or other dancers who will be performing the work, but of Nik veterans Peter Kyle and Alberto del Saz.) The Pittsburgh Ballet Theatre -- or the Paris Opera Ballet, for that matter -- does not bill itself as New York City Ballet just because it's performing an all-Balanchine program under the supervision of the Balanchine Trust.
I put my concerns to R-W co-director Joan Woodbury, Joyce marketing director Elizabeth Fort, and Ellen Jacobs Associates, publicist for the Joyce and for the Nikolais/Lous Foundation/Ririe-Woodbury's New York season.
"Yes, the repertory is Nikolais, seven of his dances, with Murray Louis and Tito del Saz directing," said Woodbury, who met Nikolais in 1949 at a summer workshop directed by Hanya Holm at which Nik was teaching, and would go on to teach his technique at the University of Utah. "The company performing is the Ririe-Woodbury Dance Company, augmented with four additional dancers. So, we are a company of 10 for this wonderful project." The repertory includes "Crucible," "Lythic," "Blank on Blank," 'Shadow Dance finale from Liturgies," "Noumenon," "Mechanical Organ," and "Tensile Involvement."
"As for the billing of the Joyce season," explained Odile Reine-Adelaide of Ellen Jacobs Associates, "the engagement is a production of the Nikolais/Louis Foundation. It is directed by Murray Louis, who is hiring the Ririe-Woodbury Dance Company dancers and some additional dancers to perform the works of Alwin Nikolais. Murray Louis is also responsible for leading the training of the performers. In no way, shape or form was there a deliberate attempt to deceive or mislead the public." How, then, would she explain the photo? "Photos of the Ririe-Woodbury Dance Company were not available at the brochure and web posting deadline."
Is the Joyce, which is actually selling the tickets for the event, misleading its audience? "The Nikolais-Louis Foundation is self-presenting this event, and it is their decision how to bill the engagement," says Fort. "It is an evening designed to celebrate Nikolais's work and in the description of the engagement in brochures, web site and in all press releases, we make sure to explain that it is unique collaboration with Ririe-Woodbury that is making it possible to bring his work to the stage once again."
And what about the dancers from the real Nikolais Dance Theatre and Murray Louis and Nikolais Dance Company? I asked several of them for their views on both the use of the name and the endeavor in general. Following are some responses, with names withheld at my suggestion.

"I read your comment and it is well taken. The die of death for the N/L company was cast over three years ago, however, and in vain would we look for a reconstitution. Ririe-Woodbury has a long history with Nikolais training and repertory and they are getting close scrutiny by Murray for this program. Art renews itself, does it not? I am confident the R-W Co. will give a loving and lovely season."
***********
"I didn't know they were billing themselves as such.... I guess I think that is reprehensible, to say the least, but at the same time I am grateful that SOME company out there is doing the work since the Nikolais Co. no longer seems in existence. And the Ririe-Woodbury directors trained under Nik for quite some time. I am sure he would see them as his artistic descendents... but of course he probably would not want them misleading the public."
***********
"There are many ways to look at this, some good, some bad. Let me start by saying that on a gut level the whole thing kind of makes me angry, but I think that has much more to do with the fact that I envy those R-W dancers! I miss doing the work terribly.
"I also feel for some of the last generation of Nik-Louis dancers who are still dancing and were left hanging at the end. They would love to do the work, and some are probably quite miffed that they weren't at least given the option to return. Especially after the dedication they showed the company.
"Aside from that, I actually find myself quite supportive of this endeavor. I concur with other alumni that R-W would do a swell job of performing the work. I believe they already have a Nik work or two or three in their rep. Not to mention that reconstructor extraordinaire Tito is on the job.
"You know, only half of the company at the end was trained in the technique anyway. The other half had 'on the job' training. And even when the school was around, they still auditioned out for dancers sometimes. Again, 'on the job' training. What I am trying to say is that the R-Ws are about as trained in the technique as anyone these days, are VERY committed to perpetuating the work as honestly as possible, and are under a very watchful eye. So in a sense, they are all we have.
"If you squint your eyes, you can see it this way: They are a bunch of dancers who are sometimes called Ririe-Woodbury, and then sometimes called Nikolais Dance Theatre. I think if the Joyce billed it as R-W doing Nik, you are right, not as many tix would sell. From a 'profit' standpoint (and I wonder, does anybody really profit financially from these things?), perhaps a bit of a fib, but from my perspective, the more people who see the work, the better, and perhaps even a better chance to bring back the REAL company. Alright, a bit of dreamin', but you asked!"
***********
"I am glad that you have opened the discussion regarding the Nikolais season.
"So, I have mixed feelings about the upcoming season. Although the work will not be performed under the ideal circumstances, as it is impossible for dancers to achieve proficiency in a technique in only six weeks, I am still happy that Nikolais is being commemorated. I intend to bring my own students to the Joyce, but will also have a discussion with them regarding the circumstances of the performance.
"Ideally, the company would still be a fully functioning unit as it once had been. But as this has not been the case since 1999, most of the former company members currently have other commitments that would prevent them from participating in a one-time season -- one member is currently in 'The Lion King' on Broadway, others have full-time teaching positions, children, etc. And some of them have not danced since the company folded. Sort of a Catch-22 situation.
"I appreciate the dialogue and hope that I have been able to lend some insight. Keep me posted on the discussion, I would be curious to hear other responses."

It's clear, then, that the real Nik dancers are mostly just pleased that the repertory will continue to live -- and from talking to Woodbury over the past two years about its perilous state, I'm sure that this is what motivates R-W as well. I'll still take exception to the marketing, though, because, first, a company is not just repertory, it's also the dancers who have trained in the technique and performed that repertory over an extended period of years. Or, as another Nik dancer put it to me, "I am struggling between the permanence of the work against the permanence of the technique." Second, dance's history in general is not esteemed -- how else to explain why Alwin Nikolais is not considered worthy for inclusion on the map of the famous buried at Pere Lachaise? If we want our history esteemed, we have to start by esteeming it ourselves, and that means being accurate with how we represent it.
If you want to look for Alwin Nikolais, you can find him in shelf #6627 at Pere Lachaise, two columns to the right of Isadora (#6796, but the map will tell you that). If you want to look for Nikolais Dance Theatre, you won't find it on the stage of the Joyce Theater October 28-November 2.

Where's the Alvin?
....Which is not to say that the Ririe-Woodbury Dance Company should not be proud of what it's doing! It might not actually be the Nikolais Dance Theatre, but it's presenting more complete dances by Alwin Nikolais in one week than the Alvin Ailey American Dance Theater is by Alvin Ailey in one month. That's right! The riddle of why the Ailey company has for the most part lost the spirit of its founder has apparently been solved: It's hardly doing any of his work any more! The 21 complete ballets in the Ailey's upcoming City Center season include just four complete works by its founder. (There will also be an Ailey Classics program of excerpts.) It's certainly laudable that the Ailey uses its stature and popularity to promote classics by other choreographers, such as Donald McKayle's "Rainbow 'Round My Shoulder," and also that it fosters new work by Dwight Rhoden, Alonzo King, and others. But can we please see more by Ailey besides "Revelations," "Cry," "Night Creature" and "Memoria"? These are all great dances, but they do not come close to exhausting the breadth and depth of the Alvin Ailey repertoire.

The Grandmother
.... As long as the Ailey company does apparently see itself as a preserver of work by other African-American choreographers, how about regularly mounting work by the grandmothers, Pearl Primus and Katherine Dunham, without whom there might not BE an Alvin Ailey American Dance Theater?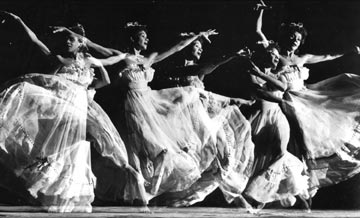 Katherine Dunham. Photo courtesy Katherine Dunham.


Dunham, for one, could use the exposure. While the Ailey company was able to secure the funding to construct what it bills as the largest facility for dance in New York, Dunham, 94 or 91 years old depending on your sources, continues to search for a proper home for her legacy. "Like many of our arts and cultural institutions, Miss Dunham's Center has been impacted significantly, a la the drive to establish a Legacy Residence and Foundation in New York," says the Dunham Legacy Project's Charlotte Ottley. "We truly need an Angel Philanthropist or Investor."

Tonight at Symphony Space, as part of the continuing effort to raise funds to preserve Dunham's archives, Ossie Davis and Ruby Dee will host a tribute to Ms. Dunham, in her presence. Organized by the Pangea Theatre Company, the tribute, commencing at 8 p.m., will feature Carmen de Lavallade performing with Wynton Marsalis, a reading from Ms. Dunham's work by Edwidge Danticat, and performances by the Marie Brooks Pan Caribbean Dance Company. Perhaps the Ailey, which teaches Dunham technique at its school, could offer the Dunham Legacy Residence and Foundation a home in its spanking new facilities.


Hines's Sight

....Speaking of legacies: One of the late Gregory Hines's many unheralded projects was American Repertory Ballet's Princeton Ballet School's DancePower. Since its inception in 1986, Hines was the program's national honorary chairperson, and thus a role model for thousands of New Brunswick, NJ public schoolchildren. He performed in three benefits for this dance-education partnership with the city's public school district. And in 1999, he established the Gregory Hines DancePower Scholarship at Rutgers University, intended to help a New Brunswick High School graduate and DancePower participant attend the university. "We are deeply saddened by the passing of Mr. Hines," said ARB director Graham Lustig. "However, we take solace in remembering his enormous talent and his willingness to share his gift with children." DancePower has dedicated its 203-04 season to Hines's memory.