Russe Redux in Paris, Cincinnati, and New York; Graham Legal Rights; ABT Gala Rites; Where's Lew Christensen? (Not at SF Ballet)

By Paul Ben-Itzak
Copyright 2002 The Dance Insider

Contrary to what you may have read elsewhere, the panel discussion being held tomorrow in Lower Manhattan, "Simple Facts of the Law for the Choreographer," is neither sponsored nor hosted by the Martha Graham Center or any of the Martha Graham entities, although attorneys who represented the center in its court victories over The Man Who Would Be Martha, Ron Protas, will be taking part. Why does this matter? Besides the patronizing title -- "Me Dancer. Me Dumb. Me Need Things Explained Simply to Me" -- that this seminar is being held at all enables the scare tactics with which Protas's legal team and the New York Times continue to inaccurately spin the consequences of Judge Miriam Goldman Cedarbaum's reasoned decision, which DOES NOT threaten choreographers' rights to their work. Cedarbaum awarded most of the extant Graham dances to her center because the center documented its ownership. Choreographer-company directors who, like Graham, have turned their companies into non- or not for- profit corporations and who work as employees for these corporations need do only one thing to establish who owns the dances and who will own them when their creator is gone: Sit down with the company board and put it all in writing.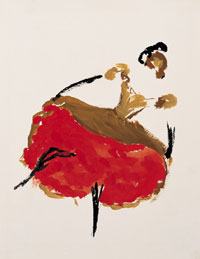 Etienne de Beaumont, Can-Can Dancer for "Gaite Parisienne," book by Etienne de Beaumont, choreography by Leonide Massine. Gift of the Fleischmann Foundation in memory of Julius Fleischmann, 1985.515. Copyright 2002 Cincinnati Art Museum. Courtesy Cincinnati Art Museum.



Speaking of legacies, perhaps because there were so many spin-off companies after the death of founder Serge Diaghilev, that of his Ballets Russes is more disseminated than disputed, as dancegoers in Paris, New York, and Cincinnati will be able to discover this week.

Tonight in Paris, "Petrouchka" returns to the place of his birth: Chatelet, where Michel Fokine's ballet, to Igor Stravinsky's music and book, premiered on the Ballets Russes on June 13, 1911, with a cast of Vaslav Nijinsky, Tamara Karsavina, Alexandre Orlov, and Enrico Cecchetti. It will be reprised tonight by the Maryinsky Theatre of St. Petersburg -- that's Kirov to you, bub -- in full complement, as director Valery Gergiev and the Orchestra, Chorus, and Ballet company kick of Chatelet's Saison Russe. Also on the Soiree Nijinsky-Fokine program, which repeats tomorrow and Friday (sans Gergiev) and Saturday afternoon (sans "Petrouchka"): the 1910 "Sheherazade"(French spelling), the 1911 "Spectre de la Rose," the 1910 "Firebird" and the "Danses Polovtsiennes" from the opera "Prince Igor," all by Fokine. We'll bring you my Flash next week. If you can't wait and are able to catch this spectacle yourself, please click here for more info. Am I psyched? YES!


Speaking of the legacy of the Ballets Russes, in 1932, three years after Diaghilev's death terminated the original, one Rene Blum and one Wassili de Basil, a former officer in the Imperial Russian Army, got together to form the Ballets Russes de Monte Carlo, an attempt to carry forth Diaghilev's legacy. In 1939 in New York, the company introduced U.S. audiences to a new choreographer: Frederick Ashton. The ballet, also new, was "Devil's Holiday," which Edwin Denby, writing in Modern Music, immediately hailed as "a new ballet Diaghilev would have been proud of.... I have seen it three times and I like it better each time. Everything about it is full of zest, sincerity, freshness, and charm." Denby had high praise for the composer, Tomasini, and also the cast: "'Devil's Holiday' is probably difficult to dance and it is danced very well by everyone. The type of expression is not mimetic but like that in classic ballet, in which the entire personality illuminates a role that the dancer has to conceive without the aid of detail. (Alexandra) Danilova is particularly fine, of course; (Nathalie) Krassovska is brilliant; and (Frederic) Franklin is magnificent."

Sixty-three years after Denby wrote those words, Frederic Franklin is still magnificent, as Cincinnati audiences will be able to see starting Friday, when the Cincinnati Ballet, under the direction of Victoria Morgan, pays tribute to both Franklin and the legacy of the Ballet Russe de Monte Carlo in the U.S. The program, on view the evenings of October 18 and 19 and in a matinee October 19, includes stagings of excerpts from such BRMC repertoire staples as Leonide Massine's 1938 "Gaite Parisienne" and 1938 "Seventh Symphony," as well as from "Devil's Holiday." Franklin, who created the role of the Baron in "Gaite Parisienne" and has coached Johanna Bernstein-Wilt in what Cincinnati Ballet is describing as an "interpretation" and "recreation" of the excerpt from "Seventh Symphony," will be seen dancing in video excerpts, and will be introduced to the Aronoff Center audience after each performance.

Also on the program: Balanchine's "La Sonnambula," premiered by the BRMC in 1946, and in which Franklin has danced the role of the poet; and the premiere of Julia Adam's "Reverence," set to the music of the BRMC-appropriate Erik Satie.

This weekend's tribute is being held in conjunction with a new exhibition at the Cincinnati Art Museum, "The Golden Age of Costume and Set Design for the Ballet Russe de Monte Carlo, 1938 to 1944." For more info on the ballet program, please visit the Cincinnati Ballet web site.



Speaking of legacies, and museums, and with all due credit to Ms. Adam and other talented contemporary choreographers working in the ballet idiom. The oft-heard plaintive cry "Where are the talented new ballet choreographers?" or sweeping proclamation "Ballet is dead" I think under-estimates the value of our legacy. After all, you would never walk into the Louvre, take one look around and demand, "Where are the New Painters?" You would probably spend the day with the Old Masters, and then search for the new practitioners elsewhere. But if museums are notorious for keeping the majority of their collections in storage for lack of space, Ballet is notorious for leaving much of its trove in the basement -- particularly early- to mid- twentieth century works. Doing my research for today's column, pouring through Denby's "Dance Writings," John Percival's "The World of Diaghilev," Ferdinando Reyna's "Concise History of Ballet," Walter Terry's "Ballet Guide," and Balanchine's (edited by Francis Mason) "Complete Stories of the Great Ballets," it struck me how many of our Great Ballets are never brought out to show. It's great that young choreographers can find in ballet a living breathing form in which to create, but perhaps it's time for ballet company directors to give at least as much attention to preserving our heritage as they do to cultivating our "future." I suspect they'll find these missions overlap.


Speaking of our heritage, we've been discussing, recently, whether San Francisco Ballet has one -- that is, a stock of what's come to be called "Heritage Ballets." Rita Felciano, previewing SFB's recent NYC season in the NY Times, thinks not. I suggested it does have one, in the works of former director Michael Smuin, never programmed by the company's current director because, frankly, they make his look paltry by comparison. Nancy Reynolds writes to ask, referring to the company's longtime director, "And what about Lew Christensen's legacy in addition to Michael Smuin's? He was the director for 33 years and a prolific choreographer. I've only seen a few of his ballets (because no one performs them anymore), but what I have seen merits revival and a look at others." Amen.


American Ballet Theatre, meanwhile, tries to strike a balance between preserving its heritage, catering to much of its audience's taste for story ballets, and commissioning new work. The fall City Center season has become a golden opportunity not just to check in with ABT and star gaze, but to revisit some of our heritage, as curated by artistic director Kevin McKenzie. On tap in the season which opened last night: Vintage works from Vaganova, Balanchine, and Jerome Robbins, and a major revival of Antony Tudor's 1956 "Offenbach in the Underworld," opening next Thursday. Susan Yung attended last night's opening gala, and reports:

"In contrast to 2001's fall gala program, in which sodden elegies danced with jutting chins alternated with maniacally patriotic tributes (heightened by the fact that ABT was not in NYC on 9/11/01), last night's program ranged from forced gaiety ("Offenbach in the Underworld," by Anthony Tudor and Jerome Robbins's "Fancy Free") through good old yin-yang classicism (a number of duets and pas de deux) to two of the season's new George Harrison tributes, one of which toed the painfully hip borderline, while the other channelled Harrison's energy to pleasing end. The audience seemed resigned to perform business-as-usual patronage duties -- sporting semi-black tie; sipping champagne at half-time, and providing applause which reflected true sentiment rather than forced, blanket support. The company sparkled: resplendent with technique, depth of personnel (especially the men), and happy to be in its fall 'laboratory' at City Center-- unfettered by lavish, encrusted sets and peasant costumes, at least for a brief time."

Please note: the preceding is not intended as a Flash Review; I asked Susan for a report, opting to pass on a review of the gala. We'll be Flashing the four-choreographer (Ann Reinking, David Parsons, Natalie Weir and Stanton Welch) George Harrison tribute when the full work premieres laster this season, as well as other programs.

One more note, bringing us back to this week's bi-continental Ballets Russes manifestations: To read about Angelin Preljocaj's take on "Le Sacre du Printemps," opening tonight at the Brooklyn Academy of Music, click here to see my Flash of the work's Paris premiere last December. Preljocaj, the contemporary choreographer du decade for the Paris Opera Ballet, shows his "Casanova" on that company beginning tomorrow at the Garnier.


Susan Yung (ABT) and Darrah Carr (Graham info) contributed to this column