How to Order Print Issues:
Back issues are $7 regular, $5 student/dancer rate, except for the Collector's Item First Issue, which is $15, or $10 for students and dancers. To order, please email paul@danceinsider.com for more information.
Summer 1998
Collector's Item First Issue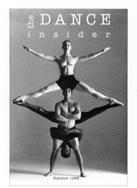 The groundbreaking inaugural issue of The Dance Insider. Cover: Exclusive Jamie Phillips studio shot of Pilobolus. Insider Forum: "Is Ballet Irrelevant?" Our staff kicks this question around with ABT star Ethan Stiefel and Joffrey Ballet legend Christian Holder. Inside Presenting: "From the Cradle to the Grave, New Ways to Build Your Audience."
Profile:Pioneering choreographer Donald McKayle. Also, Inside a Momix audition, Inside a Pilobolus collaboration, Veronica Dittman's modern take on a night at the ballet, and Dancer Z's critique of the critics. Aimee Ts'ao reviews Evelyn Cisneros' final "Swan Lake" at San Francisco Ballet, and our Ballet Editor and former SFB soloist Edward Ellison pays tribute to his friend and colleague.
Fall 1998: Sold Out!